Created by local experts, Sancy Explorer is a free app that can guide you along the hiking, mountain-biking, cycle-touring and trail-running itineraries, take you on a tour of the town and along routes suitable for pushchairs. Just choose your trail, set your pace and go exploring the Massif du Sancy in Auvergne!
Sancy Explorer : The free Sancy guidance app
Turn your telephone into a GPS guidance device! You can choose your route to suit your preferences in terms of duration, level of difficulty, theme, choice of map, etc. Download your favourite trails and follow the guide!
You won't even need a signal because, once downloaded, it works offline! No more hesitation about which path to take, the app gives directions and indicates your progress.
The interactive content is triggered as you approach various natural features, volcanoes and heritage sites, and it even takes you behind the scenes of the Horizons Arts-Nature en Sancy festival.
Added bonus
Sancy Explorer also includes:
Guidance for driving to your departure point
Real-time voice guidance with clear, easy-to-follow direction changes
Quizzes for a fun way to test your knowledge
Feedback on itineraries from other users of the app
Geolocating feature with display of GPS coordinates for rescue purposes, for your peace of mind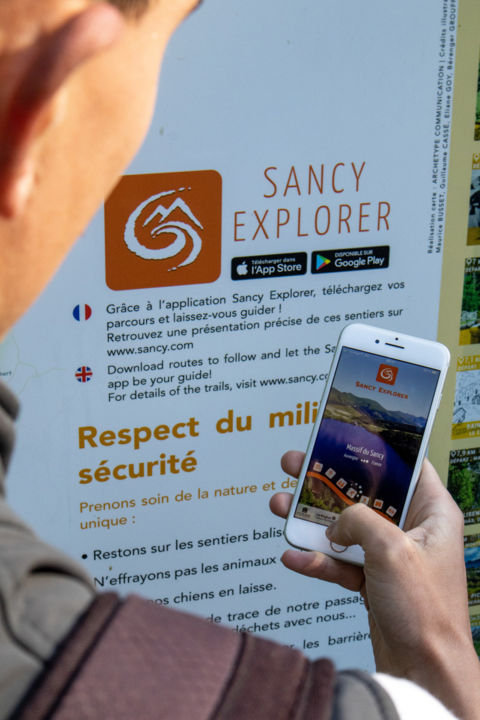 Download Sancy Explorer free of charge
All the Sancy Tourist Office trails at hand on your mobile!
To give you a taster, here are a few Sancy essentials available with the Sancy Explorer app:
around the Chaudefour Valley via the summits...
the Puy de Sancy ascent from 3 different sides...
the Grande Cascade of Le Mont-Dore...
a pushchair-friendly walk in each village boasting the Famille Plus seal of approval...
the Artistes MTB trail in Le Mont-Dore or the Vassivière MTB trail in Super Besse...
a cycling itinerary around the lakes or in the Cézallier region...
Brand new treasure hunts
And much more!
Tips
Plan ahead by downloading your itineraries when you have Wifi access, at your accommodation for example.
Make sure your smartphone is fully charged before you leave and, if possible, take a power bank with you.
Before you leave, follow our advice for a successful hike!
Sancy Explorer, for stress-free hiking!Sancy Explorer, for stress-free hiking!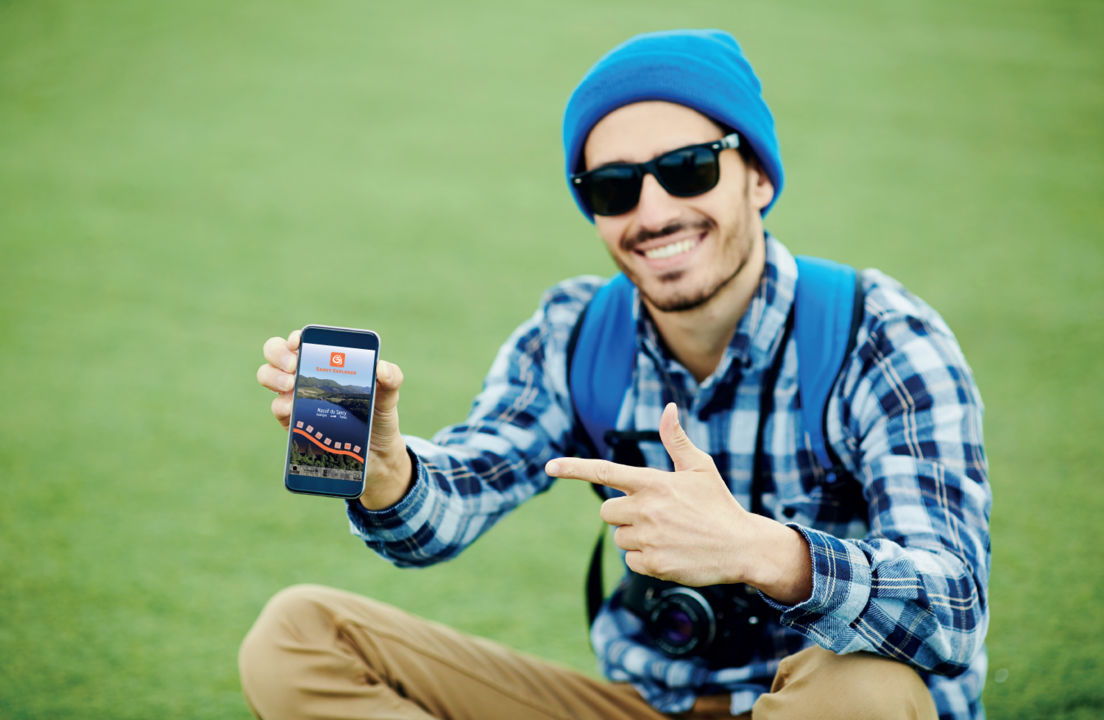 Installing Sancy Explorer
The app can be downloaded free of charge via Play Store or Apple Store, depending on your smartphone model.
Simply follow our instructions to install Sancy Explorer:
If requested, authorise your smartphone to enable the geolocation feature and background updates!
Use the app to create your online account.
Find your favourite itineraries with the help of the map. You can also use the search engine and filter your criteria for the type of activity, level of difficulty, duration, theme, etc.
Download the trails that interest you.
Then go to downloaded itineraries and choose the one you want to try. If you click on the car icon, the app will guide you to the itinerary starting point.
Activate the itinerary and let the app guide you! You'll have no network issues because the itinerary is already on your smartphone.
So just follow the guide!